Dave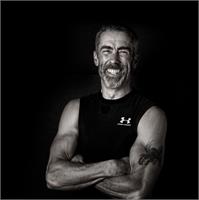 Background:
I have lived most of my life in the Miami Valley but the crucible that forged who I am was a 4 ½ year stint with the U.S. Air Force and U.S. Army as a Security Specialist during which I was assigned to a Personal Security detail for Gen H. Norman Schwarzkopf and later deployed throughout the Middle East. I am a decorated combat veteran of the Persian Gulf War and turned to physical exercise through cycling and martial arts to successfully combat the symptoms of PTSD. I am currently a Cat 3 USAC-licensed racer competing in over 125 races and won the Ohio State Time Trial Championship in 2013. I am a 4th Dan Black Belt in Taekwondo and Hapkido. I received my Certified Personal Trainer and Fitness Nutrition Specialist designations through the National Academy of Sports Medicine. When I am not leading a class at LOGIK, I am a Certified Financial Planner with Morgan Stanley in Beavercreek.
Why you will love my class:
I believe I can get what I want by helping everyone else around me get what they want. So, what do I want? I want you to feel better using any metric you want – physically, mentally, emotionally, or spiritually – by improving your fitness. I'll feed you the fuel you need to upgrade the quality of the work you do in the class. To be deliberate about how to feed your body to achieve the look and energy you want, and how to embrace your struggle in a positive way.
Dave instructs the following:
Our signature ride is indoor cycling re-invented. With inspirational coaching, motivating music with a serious thump, and a specific weekly class schedule coordinated to periodization training. Classes are balanced between Instructor and LOGIK Interval Programs and take full advantage of our LOGIK Heart Rate Training System. This 50-minute class won't scare away the newbie; but will provide significant challenges to even the most experienced.